High-speed rail connects Shanghai and Hangzhou
November 01, 2010 | Posted by Vicky
China's latest high-speed railway, a link between Shanghai and Hangzhou called CRH 380A, opened to the public this past week.
This past week, China's newest high speed train hit the tracks at Hongqiao Station in Shanghai. Called "CRH 380A" and connecting the nearby cities of Shanghai and Hangzhou, the train has set a new world record by reaching speeds of over 250 miles per hour. Moreover, like the other high-speed rails under construction in China, this new rail is based on technology developed entirely in China, which aims to lead the world in high speed railway development.
A New Record
Started in February 2009, construction on the new Shanghai-Hangzhou high-speed railway has added 125 more miles of high-speed track to China's national tally -- in total China has over 4,600 miles of high-speed track under construction. Trains on the new track are expected to average about 215 miles per hour, which makes the trip from either Shanghai or Hangzhou less than 40 minutes -- more than a half hour quicker than the fastest alternative train.
High-speed rail helps Yangtze River Delta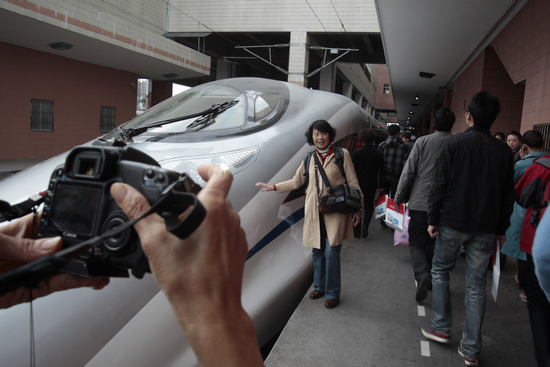 Hangzhou and Shanghai are two of the most important cities in China's Yangtze River Delta region, and the greater connectivity between them is expected to help foster the region's development. With 9 stations along the line under construction, the new high-speed rail promises to moderate the stress of transportation between the two cities and promote increased economic exchange. Furthermore, the new rail is expected to make the city of Shanghai and Zhejiang Province more competitive as they benefit from complementary advantages in resources, talent, and commerce.
Leave a comment